Скачать Adobe Reader 9.4 русский
Скачать Adobe Reader 10 русский бесплатно (26.7 Mb): Скачать
Обзор программы: Adobe Reader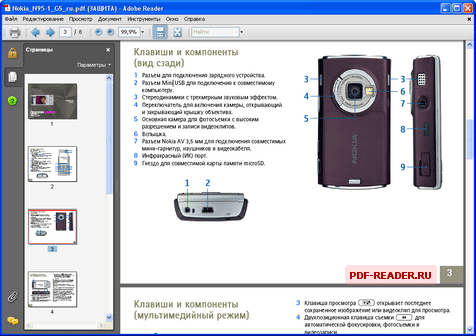 Рис.1. Adobe Reader 9.4.
Что нового в adobe reader версии 9.4:
9.3.4 introduced a bug that caused inter-document links to fail. When a link in a PDF pointed to a non-PDF format file such as .doc, .xls, etc., the target document did not open and an error appears: Error dialog- "Windows cannot find xxx. Make sure you typed the name correctly and then try again."
Acrobat crashes when form data is being served via a PHP application.
Adding text to a form field that spans two pages and scrolling to the top of the document cause Reader 9.3.3 to crash in Vista 32 bit systems.
References may not be displayed in a 3D CV5 file.
Paging through a PDF document sometimes causes an "invalid annotation object" error.
Large forms with many signatures sometimes result in long signature validation times.
Commenting review checkmarks sometimes disappear when you open same PDF in Reader or Acrobat even if you use the same Login name.
For non-post script printing on Windows, Reader sometimes prints garbled output from Adobe Central Pro 5.6 when a file is streamed to the web browser.
For shared reviews using a basic secured WebDav server, new login credentials are not saved and sent by the application to the server if the user already had an existing username and password.
XFA forms viewed in IE 7 sometimes cause a PDF viewer plugin crash.
When printing from Reader 9.1.3, the output is occasionally garbled or blocks of text have characters replaced by their subsequent letter; for example, S becomes T, etc.
The PDF viewing application crashes when deleting pages by deleting thumbnails from the thumbnails view for large documents.
(Fixed in 9.4) Reader polls the registry too often in Terminal Server environment.
(Fixed in 9.4, not an issue for 8.x) Reader MUI installation modifies Internet Explorer registry key permissions in a way which interferes with other applications that need to interact with Web events.